Bank Authorization Letter
It is patently clear that one does not always remain under same circumstances. Situations change and one has to change strategies accordingly. Bank authorization letter is one such document that helps to cope with changing financial circumstances. It provides the option of handing over the right of using and managing your personal account to someone else. Such a letter is particularly helpful when one is unable to be present himself at the bank to execute the bank related procedures. Bank authorization letter is also helpful in cases where more than one persons are supposed to use the bank account as in the case of business accounts where usually more than one employees use the account. By using a bank authorization letter, one can with no difficulty grant the rights [limited or unlimited] to a person to use his account. Every bank has its own policies and forms regarding authorizing a third person. Such a letter is usually called, "Financial power of attorney letter" while the bank authorization letters or FPOA are two types;
Limited FPOA
It is the one in which the authority granted to another person is limited to a specific time with specific conditions.
Durable FPOA:
Such an FPOA which is granted without a time limit or restricted conditions
The letter of bank authorization is written by the account holder to the bank authorities. The bank as per its policies then authorizes the nominated person. Note that although a bank authorization can be canceled at any time by the account holder, the bank cannot be held responsible for the loss or betrayal that the authorized person may cause to the account holder by misusing the account.
Bank Authorization Letter
[Your Name]
[Address]
[Letter Date]
[Recipients Name]
[Address]
[Subject: Subject of Letter] -Optional-
Dear [Recipient's Name],
I, [sender's name] account number […….] authorize Mr./Miss [enter name] to use my account for transaction and withdrawal between [enter date] to [enter date]. Since I shall be out of the country on summer vacations, I shall not be able to take on to the bank activities myself. I, therefore, request you to consider this letter of authorization and grant him/her right to undertake the mentioned activities on my behalf.
Kindly inform me as soon as the authorization is made active.
[Your Name]
[Senders Title] -Optional-
Download Details: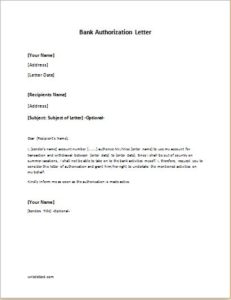 Bank Authorization Letter

Size: 33 KB Word .doc File 2003 & later
Download
Size: 313 KB PDF File
Download
[personal use only: Not for Resale & Distribution]