Complaint Letter about Co-worker or Colleague
In order to be a good employee, it is very important that how you get along with your co-workers. However, most of the times, it becomes very hard for the person to handle the work with co-workers. The best way to deal with the co-worker is to directly complaint your boss who can easily handle them. Before you write a complaint letter, you should know that how you can write an effective complaint letter. First of all, explain that how the bad behavior of your co-worker is affecting your work and your abilities.
Do not mention your views about your co-workers on personal level.  The purpose of writing the letter should also be mentioned in the letter in the start so that the reader can understand it well.  It would be better if you attach any evidence with the letter if you have against that co-worker. If the action of the co-worker against which you are complaining has taken place several times, then do mention all the dates on which they took place.
Complaint Letter about Co-worker or Colleague
[Your Name]
[Address]
[Letter Date]
[Recipients Name]
[Address]
[Subject: Subject of Letter] -Optional-
Dear (Recipient's Name),
I am writing this letter to report you about Mr Johnson. Mr Johnson has been copying the sensitive files of the company without anybody's permission. I caught him red handed several times. Other co-workers have also seen him many times. There is no such proof of this even however, I am attaching some evidences with this letter.
I hope that you will take action against Mr Johnson so that such things can never happen again.
 [Your Name]
[Senders Title] -Optional-
Download Details: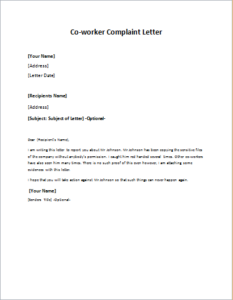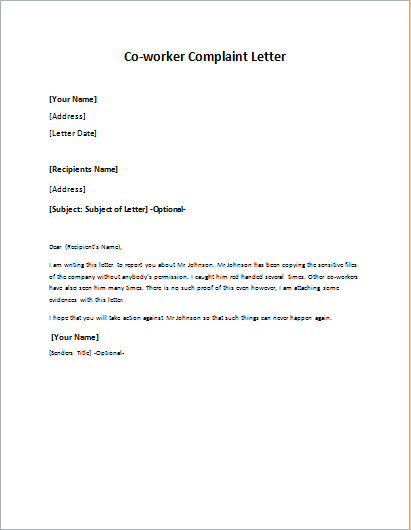 Complaint Letter about Co-worker or Colleague

Size: 25 KB Word .doc File 2003 & later
Download
Size: 194 KB PDF File
Download
[personal use only: Not for Resale & Distribution]