Letter for Approval of Office Equipment Expense
This letter is written to announce that the amount of money has been approved by the company which has been spent on the office equipment. Anyone who is given the order to purchase the office equipment first should pay the money from his own pocket and then the company releases the money for the person. That amount of money is released after the company reviews the receipts.
The letter should not be written in the detail since it is a formal letter. The only information which is necessary to be included in the letter is about the approval and the amount of money which will be paid after the approval. The receiver of the letter should be informed about the amount of the money which has been decided to be paid. The amount of the money which has been approved should be justified in the letter. Also mention in the letter the method, by which you will pay the money to the person who has purchased the office equipment.
LETTER
Dear [Recipient's Name],
We got an update letter from the office of procurement which is stating that the cost of all the office equipment which you have purchased has been approved. We have, therefore, decided to pay you that money. We will add this amount of money in the payroll that you will receive by the end of the month. If you have any question regarding the information provided in the letter, you can feel free to contact us.
[Your Name]
[Senders Title] -Optional-
Download Details: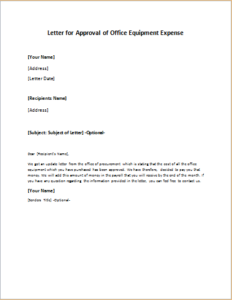 Letter for Approval of Office Equipment Expense

Size: 25 KB Word .doc File 2003 & later
Download
Size: 199 KB PDF File
Download
[personal use only: Not for Resale & Distribution]