Letter of Sympathy for an Accident
You can write a letter of sympathy for an accident to your friends, family or acquaintances in case you are away when they face a hard time in terms of an accident. Remember that apart from sympathizing with them, you also have to explain to them briefly why could you not meet them at their place or in the hospital since they are in a physically unfit condition, they are desperately in need of emotional support. Even if you are unable to meet them, leave a sympathy letter as soon as possible so that they may know that you care for them.
Letter of Sympathy for an Accident
Peter Houghs
[Address]
August 15th, 2017
[Recipients Name]
[Address]
[Subject: Subject of Letter] -Optional-
Dear [Recipients Name],
I received the news of your accident. It was such breathtaking to hear that you got serious injuries and remained in the intensive care unit for a whole week. I thank God that He saved you. There was an extreme restlessness since the time I heard about your accident and now I desperately want to meet you but as you know my job allows me only a few work leaves in a year. I have already taken them and because the schedules are also very tough these days, rare is the chance that I will get another leave now. Accept my apologies that I am not there with you at this time of need. I hope that you understand since you are my best friend.
I am sending you this humble gift with my letter and I want you to open it yourself. Please accept my heartiest sympathies for what you've suffered and I am once again thankful to God to make me fortunate enough to have you as a friend. I will visit you as soon as my leave is approved. Till then, take care of yourself.
Sincerely,
Peter Houghs
[Senders Title] -Optional-
Download Details: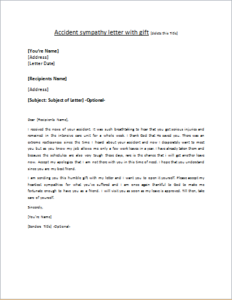 Letter of Sympathy for an Accident
Size: 28 KB Word .doc File 2003 & later
Download
Size: 204 KB PDF File
Download
[personal use only: Not for Resale & Distribution]