Letter to Accept a Job Offer as a Computer Programmer
The letter to accept the job offer is written by the person who has accepted the offer to work as a computer programmer in any company. The main purpose of writing this letter is to let the reader know that you have accepted the offer of the company and you are willing to work in the company on the proposed conditions. The letter should be written in a positive tone and you can say thank you to the company which has offered you the position to work with it. There is some detail which is required in the letter. You can tell in the letter in clear words that you have left your previous job and now you are all prepared to join new environment. The tone of the letter should be positive. It is better to mention the date from which you will be joining the company. End the letter on the positive note and also write your expectations which you have from the company regarding your work.
LETTER
Dear [Recipient's Name],
I am very happy to inform you that I have decided to work as a computer programmer in your company. I am very glad to work with you and I am aimed at providing my all services to the company in the best possible way. I will be joining the company for regular work from 1st of next month. I hope that I will be able to work positively for the progress of the company by providing the best services.
[Your Name]
[Senders Title] -Optional-
Download Details: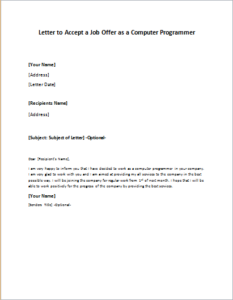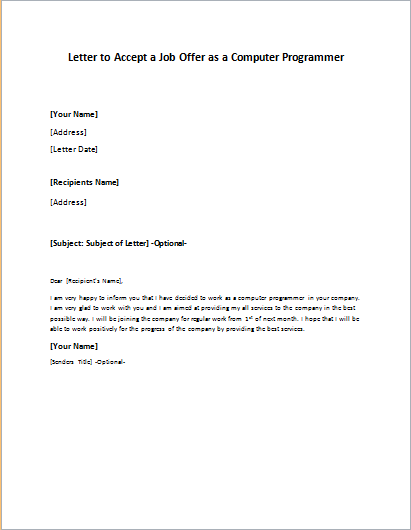 Letter to Accept a Job Offer as a Computer Programmer

Size: 30 KB Word .doc File 2003 & later
Download
Size: 195 KB PDF File
Download
[personal use only: Not for Resale & Distribution]