Letter to Attend a Conference
Business conferences are very useful especially for people who are always yearning to move from good to better and the best as in the business conferences, new ideas are discussed, business people come to know people of their line, business tycoons share their experiences and tips to success and most importantly it gives businesses a platform to let themselves recognized and advertised.
Business conferences are not open to all events. They are for selected people usually who are invited by letters. Sometimes, people who are not invited come to know about the conference. In case they find that the conference can be of use to them, a request letter to attend the conference is written. In most cases, businesses accept such requests and allow the person to attend their conference by extending them a letter of formal invitation.
The letter given below can be used to request an attendance at a conference.
Letter to Attend a Conference
[Your Name]
[Address]
[Letter Date]
[Recipients Name]
[Address]
[Subject: Subject of Letter] -Optional-
Dear (Recipient's Name),
I am [enter your name] from [enter company] working as [enter title] at the company. I recently came to know about the [enter conference name] conference which is organized by you on [enter date]. As this conference is about [ABOUT] I believe that it will be of great use for me as I will be able to benefit not only from the conference content but also from the attendees. Presenting this motive to you, I'm sure you won't refuse if I request you to allow me to attend this conference. Please accept my formal request to join you at the conference.
I'll be looking forward to your reply. Thank you.
[Your Name]
[Senders Title] -Optional-
Download Details: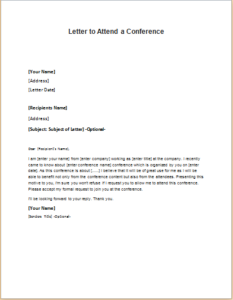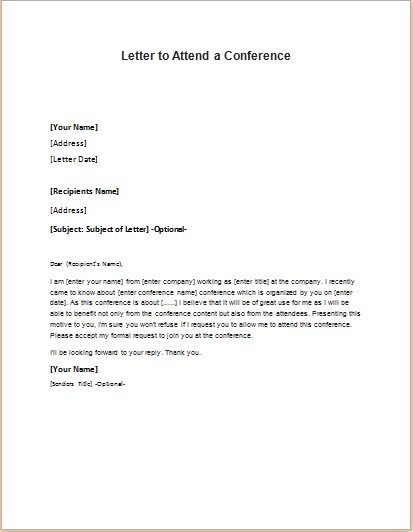 Letter to Attend a Conference 
Size: 26 KB Word .doc File 2003 & later
Download
Size: 189 KB PDF File
Download
[personal use only: Not for Resale & Distribution]