Letter to Decline an Invitation to Speak or Perform
Speaking or performing in an event requires skills and expertise. The motto of all formal events like conference, seminar, career counselings etc. is to convince the audience without creating boredom. Some speaking tips for speaking, if followed prove very helpful for the speaker. These tips are knowledge about audience type, avoid nervousness, attain purpose efficiently, and get feedback, adopt attractive and dynamic speech style. The tone of the speaker matters the most to keep the attention towards the topic. When it comes to the end of preparing the speech, proper research should be done on the topic, time utilizing tactics should be followed, and some entertainment modes can be used. Performing in an event requires teamwork. Reliability of sound system is important as well as instruments should also be tuned to avoid any mismanagement at the time of the event. Invitations to speak or perform are accepted with a feeling of gratitude ensuring the presence and confirming the date, time and venue. Rejecting invitations need the reason to be specified with a feeling of apology.
Letter to Decline an Invitation to Speak or Perform
Arts and Science University
Carl W. Stalling
35 Renton St. Golden Bridge Avenue, New Mexico.
5th April 2017
Mr. Robert Mc. Jimson
Clemson University.
12 South St, Horse Court Avenue, New Mexico.
Dear [Recipients Name],
I am much delighted to receive the invitation to speak on the topic "Importance of cultural norms and values" on 19th April 2017 in the Clemson University auditorium. Unfortunately, I am unable to accept the invitation. The reason of declination is my sudden trip to Florida. My grandfather got major illness due to which he is admitted to the hospital. My grandmother is alone and she is unable to manage things single-handedly. I am leaving tomorrow with my family. We will stay there for almost three weeks. The topic is much interesting and I had a variety of attention-grabbing ideas which would be interesting for students. I can suggest you my vice Principal Mr. Henry as he is a cultural philosopher. I apologize for the inconvenience occurred.
Best wishes. Stay Blessed.
Sincerely,
Carl W. Stalling
Principal, Arts and Science College.
Download Details: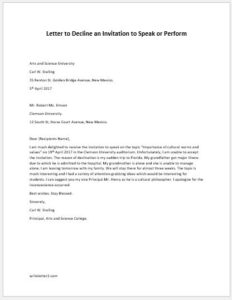 Letter to Decline an Invitation to Speak or Perform

Size: 33 KB Word .doc File 2003 & later
Download
Mobile Version: Polaris Office & Google Docs
Size: 27 KB File
Download
[personal use only: Not for Resale & Distribution]