Letter to Request a Discount on Bulk Purchase
Discounts are usually not granted on small purchases but in the case of a bulk purchase, special offers or discounts are often made. The purpose of these discounts is to raise sales since to acquire the discount, buyers tend to buy in bulks than to make small purchases with no discount. The case can be otherwise when no discounts are granted and the buyer requests the vendor or seller to make some room to lower the cost for bulk purchase by making discounts. Since a buyer can request, it is upon the seller to accept or not to accept the request as the seller must see if making discounts will leave him with a sufficient profit or not.
LETTER
Dear [Recipient's name]
After hearing about your newly launched product we decided to try it. As usual, your product is a quality product. With our utmost satisfaction, we have planned to buy a large stock of 50,000 packs of these products. Since this is an unusual purchase, we would like to request you to make a discount of [10%] on this. We already have plans to make purchases from you in future. If this discount is granted, we'll certainly prefer your company for future dealings. You're requested to consider this request and if found compatible, accept it. We'll be immensely grateful. Thank you!
Sincerely,
[Your Name]
[Your Title] -Optional-
Seeking discount for company sponsorship
Once again, [Company Name] is prepared to sponsor a day at the ballpark for all our employees and their families. We expect to purchase between 2,000 and 3,000 tickets and provide food for all attendees.
We would like to propose the same terms as last year. We ask that the Lumbertown Lumberjacks set aside at least 3,000 tickets in a continuous section of the ballpark for a weekend day game in July or August. For our part, we commit to purchase at least 2,000 seats at $10 each and food coupons (for many items except alcoholic beverages) worth $10 for each seat purchased.
We will set a cutoff for distribution of tickets for three days before the ballgame and release any unused tickets beyond the 2,000 minimum at that time.
We are pleased to be able to support an important community organization in this way while also treating our employees and their families for a day at the ballpark.
I look forward to hearing from you soon to confirm your acceptance of our offer and to select a date for this special event.
Download Details: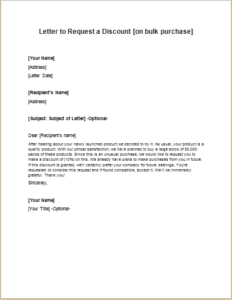 Letter to Request a Discount on Bulk Purchase
Size: 25 KB Word .doc File 2003 & later
Download
Size: 252 KB PDF File
Download
[personal use only: Not for Resale & Distribution]