Letter to Request Volunteers to Pack Relief Goods
Natural hazards, when come, leave a whole lot of things upside down. Resources are spoiled, habitats are destroyed, means of transport and communication are disrupted and most importantly people go homeless. The very first thing after such traumas is to save lives of those who are left and to provide those with food and shelter who are homeless and helpless. Such situations do not come with a prior notification. When they occur, there's a need for prompt action and prompt support to provide the most important lifesaving thing i.e. food, on an emergency basis. They have to be collected and packed without wasting time. Volunteers here are required. A call to volunteers can be given by either sending letters to individuals or by making a public support announcement. This letter can be used to request for volunteers to pack goods.
Letter to Request Volunteers to Pack Relief Goods
[Your Name]
[Address]
[Letter Date]
[Recipients Name]
[Address]
[Subject: Subject of Letter] -Optional-
Dear [Recipient's Name],
As you know, due to the recent earthquake, many parts of the country are affected badly. Most people have lost their homes. To provide these homeless people with shelter and food we need volunteers on urgent basis. We want the food items to be packed which we already have collected. You are requested to help in this cause and join our volunteer team. Please respond back to this call so that we can save as many lives as we can.
For registrations call at [123-4567-8901] Thank you!
Sincerely,
[Your Name]
[Senders Title] -Optional-
Download Details: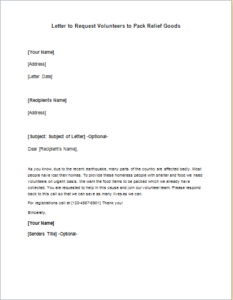 Letter to Request Volunteers to Pack Relief Goods
Size: 25 KB Word .doc File 2003 & later
Download
Size: 178 KB PDF File
Download
[personal use only: Not for Resale & Distribution]