Letter to Thank a Business for Cheap Prices of Goods
Apart from the usual norms that are maintained during business dealings, there are some other good manners that count a lot in making your ordinary business into something extraordinary. Business works due to the businessmen and it is the businessmen whose efforts and behaviors mark theirs and their business's happy memories in the minds of people. Julia A Carney in one of her poems gave the idea of the importance of little things. Little things certainly matter. Thank yous are often used in businesses but the thank yous that are made even when they were not due to make leave a long lasting effect, for example, If a business sells you goods at relatively cheap prices, though you buy them by paying for them still, a thank you letter can help create a better bond with your expected future seller.
Letter to Thank a Business for Cheap Prices of Goods
[Your Name]
[Address]
[Letter Date]
[Recipient's Name]
[Address]
[Subject: Subject of Letter] -Optional-
Dear [Recipient's name]
First of all, thank you very much for signing the deal. I would also like to extend my deepest gratitude to you for keeping the rates of [enter product] low. Since we wanted to buy a large stock we wished the prices to be negotiated. With your extreme kindness, it was possible for us to buy the stock that we wanted that too at economical prices. Hope to continue having dealt with you in future. We'll make the payments as soon as we pick up the first stock. Thank you again.
Sincerely,
[Your Name]
[Your Title] -Optional-
Download Details: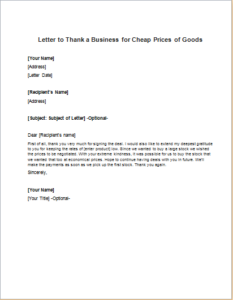 Letter to Thank a Business for Cheap Prices of Goods
Size: 25 KB Word .doc File 2003 & later
Download
Size: 160 KB PDF File
Download
[personal use only: Not for Resale & Distribution]