Personal Apology Letter for Wrong Press Statement
This letter is written soon after the incident of giving the wrong press statement. The main focus of the letter should not be on the actions that have been performed before but it should focus on what steps you will take to resolve all those issues. Apologizing in the letter solves the problem and it can settle the things. You can apologize directly in the letter to avoid giving long details. It is important to let the reader know that you have understood what he has faced after the wrong press statement. If you think that you have taken some measures in order to correct the mistake of wrong statement, then mention it. You can tell the whole incident how this all happened and do not blame anyone. If you think that you did not know about the problem, then say thanks to the reader for notifying you. At the end, you can say that you expect that your personal apology letter will be accepted.
Personal Apology Letter for Wrong Press Statement
[Your Name]
[Address]
[Letter Date]
[Recipients Name]
[Address]
[Subject: Subject of Letter] -Optional-
Dear [Recipient's Name],
I want to apologize seriously about the press statement which I gave about you. I was in rush because of mixed up notes and was unable to mention the correct position of yours. I have now realized my mistake and I took several steps to ensure that the wrong statement about you is no more aired. I have made a report that will clearly demonstrate your accurate position. I know that I have made a mistake and I will do everything to compensate this mistake. Please accept my apology for regarding the issue of wrong statement.
Sincerely,
[Your Name]
[Senders Title] -Optional-
Download Details: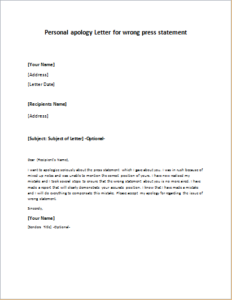 Personal Apology Letter for Wrong Press Statement
Size: 25 KB Word .doc File 2003 & later
Download
Size: 170 KB PDF File
Download
[personal use only: Not for Resale & Distribution]