Acceptance Letter to Speak at a Health Conference
Health is the most important factor of a person's well-being. A healthy mind is a result of healthy body. And a healthy body can be achieved if proper care is taken. Exercising regularly gives freshness of mind and body. It also boosts our metabolism which in result makes us active. Hence, health and exercise are interrelated with each other. If both carried together, they also bring positivism in the behavior of a person. Nowadays, in the boredom routine, it becomes difficult for everyone to take proper care of health. But, still one needs to manage time for taking care of his or her health. Similarly, if we take care of health we can properly do our routine work and enjoy life. People who are careful about their health are expected to be happier than those who never take care. People who have unhealthy diet are always seen retard. A healthy diet always keeps us away from severe and major illness. Thus, in this busy life, one needs to take care of him properly regarding health and exercise to stay active not only physically but also mentally.
Acceptance Letter to Speak at a Health Conference
Malcolm Health Foundation
Robert Wheelock.
23 St. Crescent Avenue, California.
1st April 2017
Mr. Henry Adorn
Hampton University
34 St. Fleet Cross Avenue, Nevada.
Dear [Recipients Name],
I am greatly honored by the invitation to speak at the conference at Hampton University. My topic 'Health and Exercise brings Diversity' covers a wide range of speeches. I am doing all the necessary researches. And, I am preparing a little documentary as the topic is very interesting. I hope all necessary arrangements will be made regarding projector and sound system. In addition, I have published a little handbook on health. I request you to make required arrangements for distributing it to the audience. I hope that audience will enjoy the topic as I tried to make it as much interesting as I can. I have received the tickets and hotel reservations receipts. I shall be leaving by 6th April 2017. I thank you for making all the necessary arrangements.
Thanks a lot for the speaking invitation. Hope to have a wonderful day.
Sincerely,
Robert Wheelock.
Senior Data Analyst, Malcolm Health Foundation.
Download Details: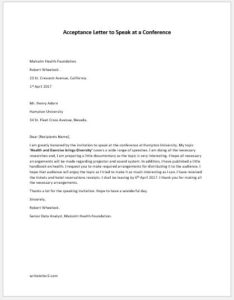 Acceptance Letter to Speak at a Health Conference
Size: 33 KB Word .doc File 2003 & later
Download
Mobile Version: Polaris Office & Google Docs
Size: 37 KB File
Download
[personal use only: Not for Resale & Distribution]