Apology Business Letter
Business apology letters are issued by a company or any representative of the company regardless of the fact that who did the mistake. Business apologies are sent for strategic reasons which relate to customer acquisition and customer retention.
A business apology letter should include:
Detailed description of the situation
Company's acknowledgment of the damage done
The company should take full responsibility for the situation occurred
A statement of regret
A promise to make sure that such a situation will not arise again
Asking the customer to accept the apology without breaking ties with the company
Apology Business Letter
Dear [Recipient's Name],
With great regret and concern, we have received your [email, call, or letter] stating the poor service/product you have received from our end on [date]. We would highly appreciate the fact that you made it a point to highlight some of the problems with our product/service. It will surely help us to improve our quality for future, not only for you but for our other valued customers also.
First of all, I would like to apologize to you on behalf of the company for the damage/loss caused to you. We take up the full responsibility for this negligence and we will make sure that this never happens again. We are thankful to you for bringing this matter to our attention.
Our customers are our highest priority and we always love to receive feedback from them regarding our services. If you still have any concerns regarding this issue, feel free to contact me personally on this [email/phone number/other]. We are looking forward to maintaining our business ties with you.
Thank you for your support
Sincerely yours,
[Your Name]
[Senders Title] -Optional-
Download Details: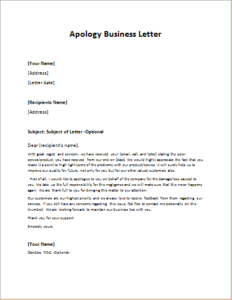 Apology Business Letter
Size: 25 KB Word .doc File 2003 & later
Download
Size: 194 KB PDF File
Download
[personal use only: Not for Resale & Distribution]