Apology Letter for Bad Behavior with Colleague
We can behave in different ways under stress. At times, people can have bad behaviors towards others due to any stress or pressure. If we behave badly with anyone, we should apologize to them as soon as possible.
State any reasons for your bad behavior and the circumstances which made you behave in that particular way. Sincerely apologize and acknowledge the fact that you have realized your mistake. Make sure that you will not repeat your behavior again and that you will work on yourself to improve your behavior.
LETTER
 Dear [Recipient Name],
I haven't seen you in the office lately. I hope things are good with you and I know you've been occupied with a lot of workloads. You have been my favorite friend at work and I highly value your advice you have been giving me in regards to my work.
I have been working since 5 years and I am still wondering about my behavior at work. I have just come to a realization that I am not very good at handling pressure. It gets on my nerves to see that I have a lot of workload and meetings.
The other day, when you were trying to inquire about my meeting, I was going through my work schedule and a sudden rush of panic just got over me and I reacted in a very bad way. Within a few minutes, I realized that my behavior was not appropriate especially when everyone else was around. Please accept my sincere apologies.
I am so embarrassed at my behavior that I couldn't muster up the courage to speak to you. Other colleagues were also mad at me because of my behavior. I promise you to work on myself and improve my behavior for the future. I am sure you will understand me and my reasons as well.
I am looking forward to hearing from you soon and take some tips from you as how can I improve my personality and behavior.
Sincerely,
[Your Name]
Download Details: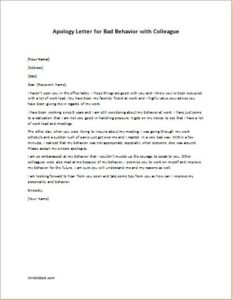 Apology Letter for Bad Behavior with Colleague
Size: 38 KB Word .doc File 2003 & later
Download
Size: 122 KB PDF File
Download
[personal use only: Not for Resale & Distribution]