Apology Letter for Being Late
An apology letter is written by an employee to his boss/manager when s/he is late to work. It can also be written by a student to a teacher. Usually, this letter is written when someone misses out a very special event of a very special person and feels really sorry for not reaching on time. Your apologizing letter can save your relationship with the person to whom you are apologizing. The reader also feels important after reading the letter.
Apologizing is not something negative neither it will degrade the person. If you feel that you should apologize, then be straightforward and go for it. Try to communicate in the letter in such a way that you can make the reader feel that you are sorry for coming late. It is not necessary to explain the reasons for coming late however, you can write the reason. Writing the reason in the letter is not an easy task. It requires good words and solid base so that the reader can understand that it was not a mistake. Elaborate in the letter that you know the importance of coming on time and make the reader feel that you know how much the event was important. End the letter with the positive tone and at the end of the letter, once again apologize and give some positive remarks. Also, assure the reader that you will never let it happen again and you will always be on time.
Apology Letter for Being Late
Dear (Recipient's Name),
I am writing this apology letter for having come late to the meeting. I know I had to submit the report in the meeting which I couldn't. I hope that I will be able to deliver it at the next meeting. Please accept my sincere thanks for your patience and consideration.
Stephan Frances
[Senders Title] -Optional-
Download Details: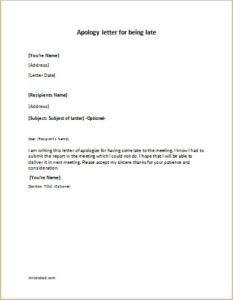 Apology Letter for Being Late
Size: 21 KB Word .doc File 2003 & later
Download
Size: 117 KB PDF File
Download
[personal use only: Not for Resale & Distribution]