Apology Letter for Delay in Beginning a Celebration
Apologies are a great way to mend broken understandings. Especially in the business sphere, it is important to apologize for inappropriate behaviors, mistakes, and botheration since these things directly or indirectly affect the business. Events are organized by common people and by business people alike. Sometimes, the organized events are delayed for one reason or the other.
In the hustle and bustle of life, it is hard to take time out to attend such celebrations that do not belong to you directly. When people accept the invitation and join the celebrations, it is the responsibility of the organizers to take care of the time management and if an accidental delay occurs, inform the attendees and formally apologize them later. This letter can be used to apologize to the attendees for a delay in the beginning of celebrations.
Apology Letter for Delay in Beginning a Celebration
Dear [Recipient's name]
Thank you very much for joining us at our company's anniversary celebrations. I would also like to apologize for the inconvenience and delay. The celebrations were supposed to begin right at 9:00 pm. However, due to a sudden power breakdown, they could not be started in time. It took 30 minutes to resolve the issue. We were finally able to begin the celebrations at 9:30 pm. We know that it caused botheration for many attendees and so it did for you. Kindly accept our humble and deepest apologies for that delay. We hope you understand that it was an unusual incident beyond our control and will thereby consider our apology. We're indeed sorry.
Sincerely,
[Your Name]
[Your Title] -Optional-
Download Details: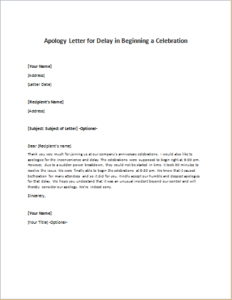 Apology Letter for Delay in Beginning a Celebration
Size: 30 KB Word .doc File 2003 & later
Download
Size: 202 KB PDF File
Download
[personal use only: Not for Resale & Distribution]