Apology Letter for Delayed Response
When your correspondence time exceeds a reasonable limit of response, writing a polite apology can be a good way to indicate that you have not ignored the email; rather your busy routine is holding you back from replying. Modes of communication have become very quick and easy these days due to which people expect a quick and prompt reply to their emails or messages.
Maintaining a cordial tone throughout the apology letter is very important. Stating the reason for the delay can show your honesty and it will be highly appreciated as well. If the reason for the delay was personal, the personal reasons could also be mentioned.
Apology Letter for Delayed Response
Dear [Recipient's Name],
I received your email last week and I would like to mention that I have thoroughly read your email. I have been occupied with back to back meetings in the last week. I always take time out from my routine to reply my emails. I highly appreciate your patience and tolerance. I was waiting to have proper free time so that I can send you a satisfactory reply.
As you may know, we are shifting our office to a new place and setting things in its place is very hectic. Different tasks have been holding me back from responding not only to you but to others as well.
I am more than pleased to read from you and reply you back. I hope you understand how busy your work routine can get at times.
Sincerely,
[Your Name]
Download Details: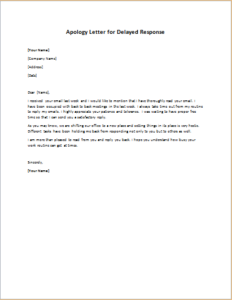 Apology Letter for Delayed Response
Size: 25 KB Word .doc File 2003 & later
Download
Size: 186 KB PDF File
Download
[personal use only: Not for Resale & Distribution]