Apology Letter for Mocking
During our youth especially when we are studying in university or college, we develop a habit of mocking people mostly for the sake of fun. Mocking at people can hurt them. If we intentionally or unintentionally mock at people and hurt their feelings, we should apologize to them in a very humble and polite manner.
When writing an apology letter makes sure you accept your mistake and take full responsibility for your actions. State any reasons or your intentions behind your actions. Try to understand the feeling of the person you mocked at as it is not about your feelings rather than others. Try to know their concerns and share their grief.
Make the person feel that you are concerned about their feelings and you want to make them feel better. Also, state what actions you might take to change and improve your behavior in future.
Apology Letter for Mocking
[Your Name]
[Date]
Dear [Recipient Name],
You have been one of my oldest friends and so I am really frank with you. In the comfort that I have with you, I just mocked at you. Later, when I was pondering over my words, I felt very embarrassed of myself. This is not the kind of person I am or I would want to be. I am a very friendly person who looks after the emotions and feelings of other people.
I have heard from a couple of other friends that you were extremely upset with me. I would like to apologize for my words and actions from the bottom of my heart. I think we should rather sit together and solve this problem. I would like to say sorry in person and want to know how I can make you feel better.
Our friendship still means a lot to me and I look forward to becoming better friends in the future. Please accept my apology and share your feelings with me.
Sincerely,
[Your Name]
Download Details: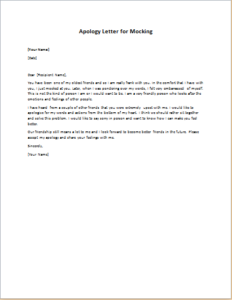 Apology Letter for Mocking
Size: 23 KB Word .doc File 2003 & later
Download
Size: 190 KB PDF File
Download
[personal use only: Not for Resale & Distribution]