Apology Letter for Something You Don't Remember
In all our busy lives, it is normal sometimes to forget something very important. But sometimes being forgetful can be a bad thing as it can hurt someone or may result in a loss of some kind. Writing an apology letter is a good way to make things up. Always state your reason for writing. It is always a good idea to mention that it is an apology letter.
State the reason for writing the letter i.e. I forgot your special day and it was really bad of me. Acknowledge the fact that your forgetfulness may have hurt the other person. Express gratitude for the person you are writing to for all the times they helped you. Taking complete responsibility for your actions is very important as it makes the other person feel that you are aware of your mistakes and you look forward to improving yourself. A simple apology is not enough; the apology should be backed with some remedial solution.
Apology Letter for Something You Don't Remember
Dear [Recipient Name],
I have been wondering over the last few days that your behavior with me seems indifferent. I was trying to figure out the problem and I was thinking I should speak to you about it. I tried to approach you several times but before that, I wanted to make sure that I am aware of the issue.
I am not sure what made you get upset. I have been thinking over a lot about it and it is hard to apologize for something I don't even know. So, the best solution I can think of is to talk about it. Please let me know whenever you are ready to discuss this further. I hope we will clarify all the misunderstandings.
Sincerely,
[Your Name]
Download Details: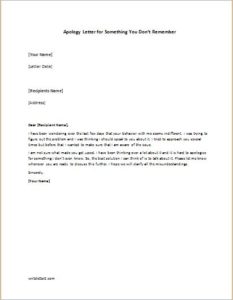 Apology Letter for Something You Don't Remember
Size: 33 KB Word .doc File 2003 & later
Download
Size: 309 KB PDF File
Download
[personal use only: Not for Resale & Distribution]