Apology Letter for Vehicle Damage
Driving is a skill which is not mastered by everyone. Driving in a rush or being negligent can result in a damage to the property and vehicle of the other person. In such circumstances, writing a quick apology can help calm down the situation.
Start the apology letter with a brief overview of what happened. The apology letter should have a very polite tone. Explain any reasons for the accident that resulted in damaging the vehicle. Take full responsibility and accept your mistake. Assure the victim that such events do not happen frequently and that it was a coincidence. Try to focus on how you plan to fix the situation. Offer any compensation for the damages that happened because of you.
Also, express that you understand the anger and frustration caused by the damage and you will do every possible effort to compensate for it.
Apology Letter for Vehicle Damage
[Your Name]
[Address]
[Date]
Dear [Recipient Name],
Yesterday while coming back from work I bumped in your car. The parking lot was packed with cars due to which I had very little space to move my car and as a result, unintentionally, my car got hit with yours. I did not run away from the spot rather I waited to observe the damage I had caused to your vehicle. It seems that I broke your car lights and a few scratches as well.
I was in a rush to leave for home due to which I could not wait to meet you. I have mentioned my contact details in this letter for you to contact me anytime. I would be more than happy to pay for any damage that I have caused.
I can understand the inconvenience that I caused to you. I am sure you love your car and so do I. So I can relate to the way you might be feeling. Please accept my apology for this matter. I will wait to hear from you soon and apologize in person.
Sincerely,
[Your Name]
Download Details: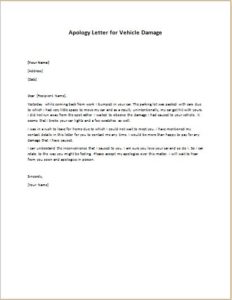 Apology Letter for Vehicle Damage
Size: 32 KB Word .doc File 2003 & later
Download
Size: 109 KB PDF File
Download
[personal use only: Not for Resale & Distribution]