Apology Letter to a Client
Everyone makes mistakes. In businesses, some mishappenings occur too. Sometimes a client's order is not prepared according to his/her requirements or in due time or a customer is not provided with good services. In all such cases, it is compulsory to write an apology letter to the client in order to formally apologize him for what happened.
Please note that apologies are apologies, so they should in no way be a mouthpiece to prove you right. These apology letters are meant to show your confession for your fault so the tone of the letter should remain humble.
Apology Letter to a Client
[Address]
[Subject: Subject of Letter] -Optional-
Dear [Recipient's Name],
Please accept our humble apologies with regard to [enter issue]. We have always tried to provide the best of services to our client. The inconvenience that you faced was only a rare happening and being our old client, you know well about our services that are never below the mark.
After looking into the matter thoroughly, I have figured out that you had to face inconvenience due to [enter responsible staff/reasons] for which the company is no doubt responsible. I hereby accept it and seek an apology from you.
In order to compensate, we have decided to [pay back, give special price sales etc]. Along with that, I assure you that you'll not have to face the same issue again in future. Let us please continue to strengthen our relationship as client and server. Thank you!
Sincerely,
Peter Higgs
[Senders Title] -Optional-
Download Details: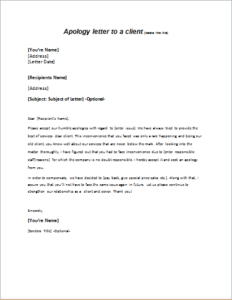 Apology Letter to a Client
Size: 27 KB Word .doc File 2003 & later
Download
Size: 195 KB PDF File
Download
[personal use only: Not for Resale & Distribution]