Apology Letter to Landlord
We all face some financial problems in life due to which it becomes hard for us to pay our bills especially the rent, as rent is the major part of our regular spending. When writing an apology letter to your landlord for delayed or non-payment of rent, always be truthful in your reasons. Some landlords can be angry whatever the matter is, but some landlords tend to understand the problems of their tenants.
When writing an apology letter to your landlord, come to the point directly without beating around the bush. Bring immediate attention of the landlord to the matter. After addressing the matter and any stating any reasons, mention how you plan to rectify the situation. The situation has to be dealt with a sincere apology.
Also, mention that how do you plan to make the previous payments. Do not forget to apologize for the delayed payment. And end your apology with a positive note assuring your landlord that delayed payments will not occur In the future.
Apology Letter to Landlord
Dear [Your Name],
I would like to apologize to you for not paying the rent for the last month. This is the first time the rent has been delayed. I switched to a new job and I haven't received my salary as yet. My last job has left me with a severe financial crunch.
I need your cooperation in regards to this matter. I am expecting to receive my salary in a weeks' time. And only then I will pay the rent. You have been a wonderful landlord so far and I hope we have been good tenants as well. I would highly appreciate if you understand our problems and accept the delayed rent payment.
I assure this will not happen again in the future as my job is running smoothly now and my financial condition is improving as well.
Sincerely,
[Your Name]
Download Details: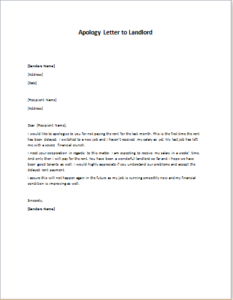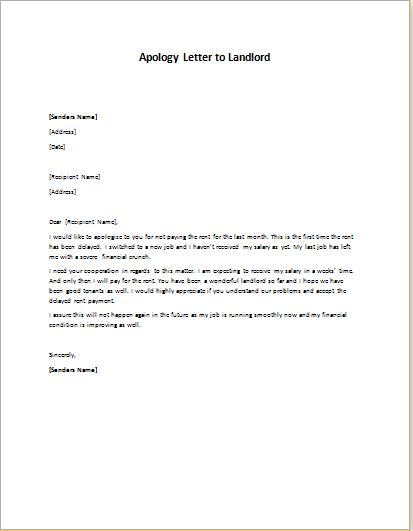 Apology Letter to Landlord
Size: 30 KB Word .doc File 2003 & later
Download
Size: 187 KB PDF File
Download
[personal use only: Not for Resale & Distribution]