Appeal Letter for an Insurance Claim
There are different insurance types and every company has its own rules and regulations regarding its insurance plans. However, the general principle of an insurance policy is that the insurer agrees to pay for the loss experienced by the policyholder on the thing for which the policy was taken i.e. car insurance, life insurance etc. An initial payment which is also called premium is paid by the policyholder either in one installment or in several installments. The payment in the case of loss is granted by the insurer as per the policy rules which differ from company to company and plan to plan.
An appeal letter can be written to the insurance company in order to claim the insurance. This letter should contain the clear information regarding the incident on the basis of which the claim is being made, the amount one is claiming and mention of the relevant documents that are attached.
Appeal Letter for an Insurance Claim
Dear [Recipient's name]
I'm filing this claim on my car the policy no. of which is #123456. My car was in the parking area of the supermarket while I was shopping. It was fully locked. When I returned the car was not there. I also reported at the police station but the police could not recover my car. It was brand new and was of $$$$$. I am enclosing the purchase receipt of the car along with other necessary documents thereby making a claim of $$$$ minimum for the loss. As per my insurance policy accompanied by all rules and regulations you're requested to reimburse me as soon as possible. Thank you!
Sincerely,
[Your Name]
[Your Title] -Optional-
Download Details: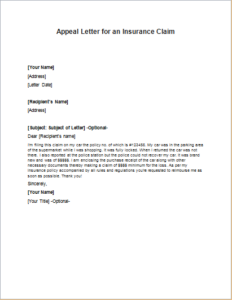 Appeal Letter for an Insurance Claim
Size: 25 KB Word .doc File 2003 & later
Download
Size: 158 KB PDF File
Download
[personal use only: Not for Resale & Distribution]