Application Letter for Nursing School
The letter must show your passion for the field of nursing you want to pursue in your future. It should also contain a copy of your previous academic records.  Such kind of application letters are written in a very formal tone and they must make your application stand out in so many other applications that they have received from people who want to study at their nursing school. The detailed body of the letter is given below.
Application Letter for Nursing School
Dear [recipient's name],
This letter has been written in reference to your add in the newspaper for school's admission applications open for the year 2016. I would like to show my interest in getting admission at your prestigious nursing school. Helping people in pain and spreading happiness has always been my passion and nursing is something that makes me see my dream come true.
I have always been a bright student till high school with an outstanding academic record till now. A copy of my documents and academic records is attached with this letter. It will be a great pleasure for me to study and pursue my degree from your institution. I believe that my skills, passion, and interest in the field of nursing will be an asset to your honorable school.
I can also come over for an interview if that's necessary. I look forward to a positive response from you and to study at your renowned nursing school.
Thank you very much.
Yours Sincerely,
[Your Name]
Download Details: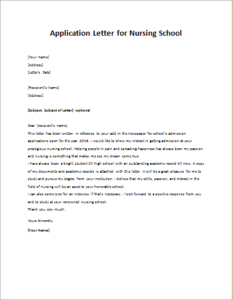 Application Letter for Nursing School
Size: 25 KB Word .doc File 2003 & later
Download
Size: 198 KB PDF File
Download
[personal use only: Not for Resale & Distribution]