Approval Letter for Renovation of a Building
Approval letters are of two main categories. One in which the approval is sought while the other in which the approval is granted. Since seeking or granting of approval shows that the matter is of prime importance and thus needs to be approved with a prior permission it is, therefore, important to write both approvals seeking and approval granting letters in detail with clear mention of the exceptions or the terms and conditions. Look at this detailed letter regarding the approval for renovation of a building.
Approval Letter for Renovation of a Building
Dear [Recipient's name]
Your request letter for approval to renovate a building has been received by the local authority. We hereby inform you that you are granted the permission to renovate your building that is amidst the main market. However, you are requested to comply with the terms and conditions in order to complete this renovation. In the case you are seen violating the terms, the permission will be canceled. The details of the condition are hereunder;
Daytime construction is not allowed since it will cause problems for the common public.
The building should not exceed the vertical limit of 10 to maximum
Don't bring in or park heavy machinery in the parking areas of the marketplace in the daytime.
With the condition to comply with the given terms, you are allowed by the local authority to renovate your building.
Sincerely,
[Your Name]
[Your Title] -Optional-
Download Details: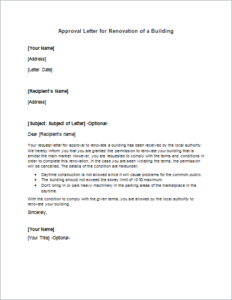 Approval Letter for Renovation of a Building
Size: 30 KB Word .doc File 2003 & later
Download
Size: 173 KB PDF File
Download
[personal use only: Not for Resale & Distribution]