Cancel a Lunch Invite due to Unexpected Visit of the Guests
Technology has changed the lifestyle of mankind. Although improvement in technology makes life easy in many respects but it has encircled or trapped the society in its loop. Now the communication between the people is easy, traveling is fast and all the facilities are on a single click but this all has reduced the social values and social gatherings. Now, the kids or teenager are more interested in computer or mobile games instead of physical activities at the playground. Nobody has time for others to visit because he is aware of his health and routine through social media. Therefore, we should regard the people who encourage the social gatherings. Those who invite us or become our guests are the people who want us to keep in touch and spare the time out of their busy schedule. Guests are a blessing of God and source of spreading love among the families. We should always welcome them and invite them whenever circumstances allow it.
Cancel a Lunch Invite due to Unexpected Visit of the Guests
Jason Ben Cameron
Block 23C, East River Avenue, New York.
5th June 2017
Mr. Richard De Nathaniel
Block 11B, West End Avenue, New York.
Dear [Recipients Name],
I hope you are enjoying the best health. I regret to inform you that I am unable to manage to come for lunch that we have planned tomorrow at sea view. My uncle is arriving tomorrow and I must receive him from the airport. His flight will land at the time of our planned lunch and he will stay with us for two days. As he is paying a visit to us after five years, therefore, I must accompany him and take him to home. This was so unexpected that I could not inform you beforehand. I apologize for the cancellation of lunch with you but we will arrange a gathering again shortly. I hope you would not mind it and understand the nature of my regret for lunch. Moreover, you can come to my home anytime even without an invitation.
Looking forward to your kind response.
Yours Truly,
Jason Ben Cameron
Download Details: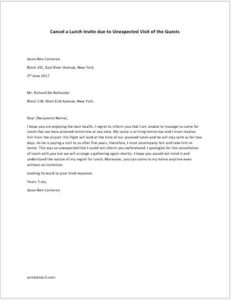 Cancel a Lunch Invite due to Unexpected Visit of the Guests
Size: 32 KB Word .doc File 2003 & later
Download
Mobile Version: Polaris Office & Google Docs
Size: 19 KB File
Download
[personal use only: Not for Resale & Distribution]