Company Letter of Recommendation
If you want to write a letter of recommendation for an old employee or a co-worker then you should keep that in mind that your letter should be strong enough to help the person securing the job. You can give your information about the character and work ethics of the employee. A letter of recommendation can be written by a family member, a friend or an old co-worker. You should know that how to write an effective letter of recommendation. There are a number of situations where a letter of recommendation can work. Sometimes, students who want to apply for funding are asked to provide this letter.  You can write a letter of recommendation if you are an authorized person in your company.  You should be a trustworthy and honest person so that the authorities of the company can believe your words about the person for whom you have written a letter of recommendation. You should give a couple of reasons in the letter to prove that the person you are referencing is worthy of this job.
Company letter of recommendation
[Your Name]
[Address]
[Letter Date]
[Recipients Name]
[Address]
[Subject: Subject of Letter] -Optional-
Dear (Recipient's Name),
I am writing this letter on behalf of Mr. Johnson who has been working as a sales manager in our company from two years. I am highly impressed by the courage and determination of Mr. Johnson. Whatever duty were assigned to him during his job, he performed those duties honestly. He is a very talented person and I am not hesitating in recommending him for [ENTER DESCRIPTION HERE if any].
I hope that you will take my recommendation in consideration.
[Your Name]
[Senders Title] -Optional-
Download Details: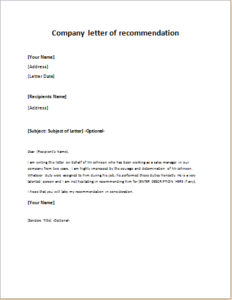 Company Letter of Recommendation
Size: 25 KB Word .doc File 2003 & later
Download
Size: 195 KB PDF File
Download
[personal use only: Not for Resale & Distribution]