Complaint Letter about an Employee
You can write a complaint letter against an employee if you are unhappy with the services provided by him. You should know that how to write a complaint letter about an employee. Writing a complaint letter against an employee or a fellow colleague can be a challenging task.
The wording which you are going to use in the letter should be chosen with great care because this complaint letter is placed in the record file of the employer. When you lodge the complaint, write the full name of the employee with his designation in order to avoid any confusion. Whatever problem the company or you are having should be stated in the letter in clear words. If the complaint is about any incident, then mention the date and the time of the incident. Also, attach proofs if you. If you have made any complaint before, also mention all those with dates. This will validate your complaint. In the end of the letter, you can give your opinion.
                                      Complaint Letter about an Employee
[Your Name]
[Address]
[Letter Date]
[Recipients Name]
[Address]
[Subject: Subject of Letter] -Optional-
Dear (Recipient's Name),
I have been bearing very rude behavior of Mr/Ms [Employee/Name/Position] and now I think it is impossible for me to tolerate this so, I am writing this letter to lodge a complaint against him/her. His/her annoying behavior makes it very difficult for me to deal with him/her anymore.  In other words, he/she has no patience in dealing with the customers.
I hope that you will talk to him/her to bring some politeness in his/her behavior. If he/she will not change his/her behavior then your company will lose its customers.
[Your Name]
[Senders Title] -Optional-
Download Details: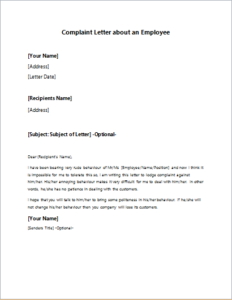 Complaint Letter about an Employee

Size: 25 KB Word .doc File 2003 & later
Download
Size: 247 KB PDF File
Download
[personal use only: Not for Resale & Distribution]