Complaint Letter about Late Work or Poor Piece of Work
People who know how to do their assigned work with devotion and responsibility are rare. And then there are many who do their work with least interest taking it as a burden loaded over their backs. Late or poor work is the outcome of irresponsible behavior and while the worker/employee may get happy by receiving the payment of his work, the work may not be satisfactory enough for the employer/customer. A letter can be written to record complaint regarding late or poor work so that the ongoing projects/services can be improved and also that such work behavior could be discouraged for future practice.
Complaint Letter about Late Work or Poor Piece of Work
[Your Name]
[Address]
[Letter Date]
[Recipient's Name]
[Address]
[Subject: Subject of Letter] -Optional-
Dear [Recipient's name]
I had requested the services of your company for the wallpapering of my new house in [enter place]. Two of your agents came to initiate the work one week ago. It's been 7 days now and they haven't completed even half of the work. Also, I am not satisfied with the quality of the work they are doing. This is my new house and I have been putting a lot of effort to decorate it as beautifully as I can. The kind of work that your agents are doing, I fear they'll spoil the look of my house. Unfortunately, as a result of this dissatisfaction, I have to request you to replace these two workers with quick and professional ones who would give my house the look that I want. For that, I shall be very grateful to you since it's about my new house on which I have spent a lot of money and efforts. Thank you!
Sincerely,
[Your Name]
[Your Title] -Optional-
Download Details: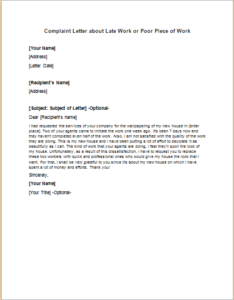 Complaint Letter about Late Work or Poor Piece of Work
Size: 25 KB Word .doc File 2003 & later
Download
Size: 160 KB PDF File
Download
[personal use only: Not for Resale & Distribution]