Complaint Letter about Unclean Facilities
Cleanliness is an important aspect of life. It has a direct impact on our health. Little children need a lot of attention regarding cleanliness as they can have a direct impact of dirt to cause illness and diseases. Our school, colleges, universities, offices and our homes need to be very clean and tidy. This is for our good health as well as a good impression on others. And this thing is also a part of the motivation for those who never keep cleanliness in their surroundings. Our surroundings should also be very clean as students and office workers pass through all the areas for reaching to their required places. Survey should be conducted to know the point of view and complaints of students, teachers, household and professionals. And in this advanced global world, campaigns should be held in all cities to create awareness among people, especially in backward areas. When people go for some official trips and family trips they need to stay in the hotels, and the first thing they require in the hotels is cleanliness.
Complaint Letter about Unclean Facilities
Julia Carney
Project Manager, Brilliant Electronics
Block 19 A, Diamond Avenue, New Mexico.
17th November 2016.
Mr. Joseph Lark
Managing Director
Crystals and Balls 7 Star Hotel
7th Central St. Crystal Enclave, New York.
Dear [Recipients Name],
Hope you are very well. Last week I with my colleagues had a stay in your hotel and we had a strict complaint on the cleanliness of your hotel. We are disappointed so badly. As we entered, the room was so messy and things were not arranged properly. The refrigerator and washroom were so dirty that we were hardly able to use. Your hotel is the most renowned in the city. Cleanliness is always important and hotels need to be the cleanest as it can enhance the guest's attraction. You should keep a proper check and balance of your rooms. Your lower management should be guided properly and a channel should be made to convey all the rules and regulation of cleanliness.
Hope to have no complaints in future.
Sincerely,
Julia Carney
Project Manager, Brilliant Electronics
Download Details: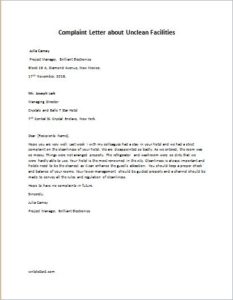 Complaint Letter about Unclean Facilities

Size: 33 KB Word .doc File 2003 & later
Download
Size: 312 KB PDF File
Download
[personal use only: Not for Resale & Distribution]