Complaint Letter Against Coworker
The man is a social animal and lives in a society. In a society, he must obey some rules to get his rights and provides rights to others. He must follow some general courtesies to live peacefully. He should depend on a society and society also demands something from him as well. Same is the case with the workplace where he must work as a team and he should act as he is acting in a society. His colleagues are like his friends and family. Like in a family we share our issues with the guardian of the family; similarly, in our office, we discuss our issues to our boss. Everybody is different in nature and we should respect each other in any case to avoid any miss behavior. But when we feel that our compromise is considered as a weakness and another person is continuously stringent in his behavior then we must complain about his behavior to reform him and to get the better office environment.
Complaint Letter Against Coworker
City Bank Western Branch.
Thomas Laurent.
43 St. Hill Avenue, Carson.
July 29th, 2017
Mr. Jack Wheelock
City Bank Headquarters.
10 Fleet St. Crest Avenue, Carson.
Dear [Recipients Name],
I hope you are enjoying your health. I have been posted to the western branch of our bank and promoted to the designation of Operations Manager. I am performing my duty with full of my zeal and energy but I have an issue regarding Human Resource Manager. He is very rude in his behavior and always creates some non-sensible issues which are causing great disturbance for me. I tried to compromise several times and tried to ignore him but he remained inflexible every time. We both are enjoying the same grade in the bank but he always tries to act like a boss and tries to scramble my work per his wishes. Initially, I respected his thoughts but now his attitude is irritating me and I am unable to finish my work on my time due to his severe interference. Therefore, I request you to counsel him on earliest.
Sincerely,
Thomas Laurent
Operations Manager, City Bank.
Download Details: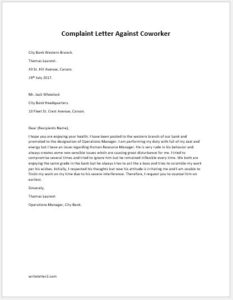 Complaint Letter Against Coworker

Size: 34 KB Word .doc File 2003 & later
Download
Mobile Version: Polaris Office & Google Docs
Size: 16 KB File
Download
[personal use only: Not for Resale & Distribution]