Complaint Letter for being harassed to Buy Insurance
Insurance companies are notorious for their tactics to force their prospective customers for buying insurance. People are often seen complaining about insurance companies. There are several ways in which the companies try to hard press potential customers. The most common tactics are sending them continuous newsletters, unnecessary visits of their insurance agents etc. While this enforcement comes under harassment, the person who is being harassed can either complain the higher authorities of the insurance company or can directly complain at the police station if the harassment is of severe nature.
Complaint Letter for being harassed to Buy Insurance
[Your Name]
[Address]
[Letter Date]
[Recipient's Name]
[Address]
[Subject: Subject of Letter] -Optional-
Dear [Recipient's name]
I had contacted your company regarding insurance. At that time I was thinking to take a policy and therefore wanted the company to introduce to me some of its policies. Later, due to some personal reasons, I thought to change my decision and told the company that I have canceled the plan of taking the policy. After that, the company should have stopped convincing me but that day and this day, I am being contacted on the daily basis. Your insurance agent also visits my house once in a week even though I have told him several times of my lack of interest in taking the policy. This is absolutely annoying and I cannot tolerate this anymore. Kindly stop calling and messaging me and stop sending your agent at my house. If this continues, I will have to report to the police.
Sincerely,
[Your Name]
[Your Title] -Optional-
Download Details: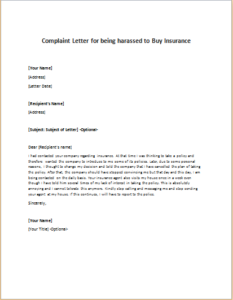 Complaint Letter for being harassed to Buy Insurance
Size: 27 KB Word .doc File 2003 & later
Download
Size: 195 KB PDF File
Download
[personal use only: Not for Resale & Distribution]