Complaint Letter for Car Repair
Maintenance plays very important role for better working of the machinery and equipment. It enhances the life of the machinery and prevents the sudden breakdown of their parts. There are two common types of the maintenance. One is corrective maintenance and other is preventive maintenance. Corrective maintenance is "the maintenance after the occurrence of defects" while the preventive maintenance is "the periodic maintenance or proactive maintenance to avoid any defect". The preventive maintenance is performed prior any defect to avoid the defect. For example, timely changing the engine oil in car, tuning and break services, air checks in tires are the preventive maintenance. But the experience of mechanic does matter in all types of maintenance. Especially, in the case of corrective maintenance, it is very necessary to diagnose exact nature of defect to repair it. If the auto-mechanic is highly professional and skillful then he would diagnose the exact defect, otherwise, hit and trial method can ruin the remaining performance of the vehicle. Therefore, it is always necessary to keep trusted mechanic and try to maintain the vehicle on preventive maintenance to avoid any inconvenience.
Complaint Letter for Car Repair
Kevin Alexander
Ocean Residency
Block 26C, Diamond Avenue, Florida.
17th May 2017
Mr. Luis Mason
Landscape Showroom.
31 St, Crystal Avenue, Florida.
Dear [Recipients Name],
Hope you are fine and delivering best to your customers. But I have a complaint about your workshop. I had repaired my car from the workshop of your showroom. My car was missing acceleration while putting it in high gears. The mechanic at the workshop diagnosed that fuel pump was weak and same has changed accordingly. The vehicle performance got better but not up to the required standard. Then I went to the other workshop to take the second opinion from other mechanic and he detected that two fuel injectors out of four were chock. However, as a preventive measure, he changed all the fuel injectors and performance of my car became tremendous. I regret to say that if this wrong practice of hit and trial diagnosis remains continue at your workshop then you would lose numbers of your valuable customers.
Sincerely,
Kevin Alexander
Download Details: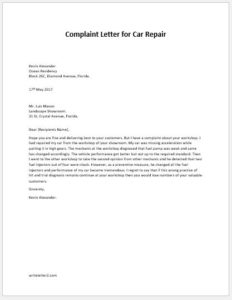 Complaint Letter for Car Repair
Size: 31 KB Word .doc File 2003 & later
Download
Mobile Version: Polaris Office & Google Docs
Size: 22 KB File
Download
[personal use only: Not for Resale & Distribution]