Complaint letter for False Advertising
Advertisements are a great deal of attraction for consumers. People get strongly attracted to the products after watching advertisements. Nowadays, advertisement industry creates catchy and unique ads. Advertisements have a strong psychological effect on the mind of consumers and they strongly desire to buy the product. As per the psychological effect, some deceivers make false advertisements and people are easily deceived by it. False advertisement can be about the extra benefits given with the product. It can also be about the functioning and specification of a product. Such false advertisements, especially on edibles are disastrous for health. In the same way, false advertisements regarding appliances can put one life at stake. Above all, the government and other specific authorities should take specific measures for the quality control of all household items, food products etc. When someone found being deceived through a false advertisement, he must make a complaint against the company. In such a way, other people can be saved from having the same harmful effects.
Complaint letter for False Advertising
Charlie Alberto.
Block 13A, Columbus Avenue, California.
19th April 2017
Mr. Peter Wilson
Micro Macro Company Ltd.
24 St, Down Town Avenue, California.
Dear [Recipients Name],
I am Charlie Alberto. I am writing to make a serious complaint about the "Pure It" water purifier. I am deceived along with my two colleagues because of the false advertisement. The TV and website advertisements both were totally wrong. The company gave a deal that 6 liters' water purifier worth just $100 instead of $300 with a free Microfiber Mesh for cleanup and it has 5 years' warranty. We ordered it and received after 2 days. After opening there was neither a microfiber mesh nor a warranty card inside. The booklet said that it will start working in 24 hours. It is not functioning since the day we set it. We are simply deceived. We want a replacement of the "Pure it" free of charge. And the microfibers mesh along with the warranty card as per the deal. I am sending you the copies of the receipts and other necessary information. I would strongly request you to stop deceiving the consumers.
Thank You.
Sincerely,
Charlie Alberto.
Download Details: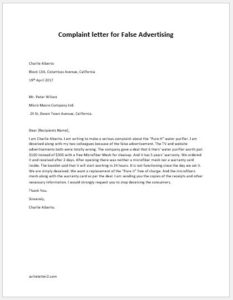 Complaint letter for False Advertising

Size: 32 KB Word .doc File 2003 & later
Download
Mobile Version: Polaris Office & Google Docs
Size: 22 KB File
Download
[personal use only: Not for Resale & Distribution]