Complaint Letter Seeking Compensation for Missed Lecture
It is very important to read carefully all terms and conditions prior starting any contract or deal. There are numerous scenarios that can lead you to the trouble if you deviate from your commitment. On the other hand, this is general courtesy and our moral responsibility to fulfill our commitment. Generally, it is seen that those companies who get away from their pledges are charged with guilty to pay compensation. This not only financially harms the company but also ends up with the bad reputation. In such scenario, a complaint letter is written to the company who moves away from the contract and asks for compensation. The complaint letter clarifies the act of the company and also informs about the exact compensation demanded by the other dealer.
Complaint Letter Seeking Compensation for Missed Lecture
Hi-tech Institute.
Jackson Cameron.
21 St. Fifth Board Avenue, New Kentucky.
13th June 2017
Mr. Noah Jayden.
Shining Star School.
24 St. Sun Set Avenue, New Kentucky.
Dear [Recipients Name],
I am writing to complain you about deviation from your commitment. I was booked for a motivational lecture during the spring festival at your school on 23 Feb 2017. I was informed through your official email that I have to give a motivational lecture on 28 Feb 17 at 11 am and I agreed to it despite my busy schedule. I have presented thousands of lectures all over the world but motivating students is always a charming and divine thing for me. That was the reason; I was charging half price of the lecture and I have mentioned the same in my last email. I prepared my lecture as per plan and consumed my precious time to prepare my presentation as per student's mindset. But, on 28 Feb 17 at about 9 am, I was informed that the lecture has been canceled due to the official commitment of principal. I was getting ready to leave for school at that time and it was shocking news for me. Anyway, I have to cancel my other orders for school lectures, therefore, I am asking for compensation of this incident. I am expecting the same amount as a compensation that is the fee of my lecture and the cheque may be sent to my present address.
Yours Truly,
Jackson Cameron.
Professor, Hi-tech Institute.
Download Details: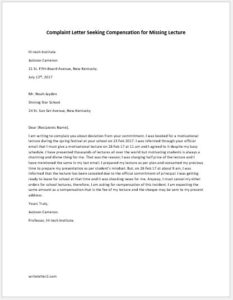 Complaint Letter Seeking Compensation for Missed Lecture
Size: 48 KB Word .doc File 2003 & later
Download
Mobile Version: Polaris Office & Google Docs
Size: 23 KB File
Download
[personal use only: Not for Resale & Distribution]