Compliment Letter for Speedy Delivery of Products
While most people just do the work, there are some who do an extraordinary work. This is not limited to a particular sphere. If a person is passionate about what he does and thus loves his work, he will bring compliments for his work and himself no matter where he goes and what he does. In buying and selling, one of the most common complaints by the buyers is that they do not receive their orders in time.
A seller can win the hearts of the buyers by making prompt deliveries and can thus increase his sales and demand. When most of the people are busy doing ordinary work, the people doing extraordinary surely deserve to be complimented. This letter can be used to compliment a vendor/seller for the speedy delivery of products.
Compliment Letter for Speedy Delivery of Products 
Dear [Recipient's name]
After placing a bulk order at your company, I thought I shall have to wait at least half a month to receive it. To my surprise, not even a week has passed and I have received the parcel. I am greatly impressed with the prompt services. From packing to parceling, everything is done perfectly. All pieces are fresh and undamaged. You certainly deserve compliments for this extraordinary service. I am very grateful to you and have plans to make future deals with you.
I would also like to inform you that as soon as I received the parcel, I made the transaction since I tried to be as prompt as you were. Kindly check your balance and confirm me. Once again thank you very much for your excellent services!
Sincerely,
[Your Name]
[Your Title] -Optional-
Download Details: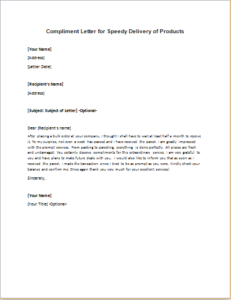 Compliment Letter for Speedy Delivery of Products  
Size: 30 KB Word .doc File 2003 & later
Download
Size: 195 KB PDF File
Download
[personal use only: Not for Resale & Distribution]