Congratulation Letter for Successful Talk
Congratulation letter for successful talk is an appreciation letter written as recognition of a good talk or speech by a colleague, friend or some random individual. To encourage and appreciate on delivering a successful presentation or speech, this letter is useful in the circumstances along with acknowledging the efforts, hard work and the dedication put into the speech by the speaker. Such kind of acknowledgments brings in positive responses and encourages them by increasing their level of confidence. Thus, this letter can be used to congratulate a speaker for delivering a good speech or having a successful talk.
Congratulation Letter for Successful Talk
[Your Name]
[Address]
[Letter's Date]
[Recipient's Name]
[Address]
[Subject: Subject of Letter] -optional
Dear [recipient's name],
A couple of days earlier I had an amazing experience of attending the business talk where you were one of the speakers. I want to congratulate you on delivering such a successful talk on the chosen topic. The way you conveyed your message and views politely while the other team members were talking harshly, was very impressive. Your way of speaking is very unique and it has the ability to keep its viewers interested all the time. It was a very persuasive argument that you put forward, and the use of visual aids made it that much more impressive. It was a pleasure to attend such an informative and interesting talk and I look forward to being a part of your regular viewers in future. I once again congratulate you on your success and I wish all the best for you in your future.
Thank you very much.
Yours Sincerely,
[Your Name]
Download Details: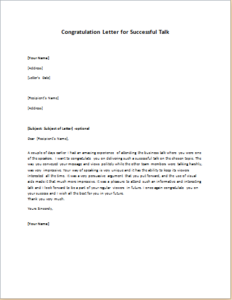 Congratulation Letter for Successful Talk
Size: 30 KB Word .doc File 2003 & later
Download
Size: 194 KB PDF File
Download
[personal use only: Not for Resale & Distribution]