Day off Request Letter to Boss
Holidays are great blessings in this hustle and bustle of life. In our lifestyle, we tend to leave all our personal engagements on holidays. Apart from holidays sometimes we need a day off in weekdays for certain personal or family issues. These issues may include self or family illness, passport or visa formalities, academic submissions and bank account related chores etc. All these issues cannot be solved on public holidays and require working hours to spend. Sometimes we come to know about them very shortly.
This is of course not a fair deal as per office rules, but uncertainties are part of life. They can happen to anyone, anywhere and anytime. For such kind of issues, re-known organizations upkeep their human resource while catering the personnel on leaves, illness or emergencies. In other words, there is always a backup of everything just like our computer systems keep a backup of our files etc. But this is always a two-way business like sometimes employees seek leniency from their bosses for extreme issues and on the other hand, bosses also expect that employees should not come up to them asking for a holiday for every petty issue that is resolvable.
LETTER
Innovators Tech Ltd.
Elsa David
Block 21 C, Crystal Avenue, New Jersey
22nd November 2016
Mr. William John
Innovators Tech Ltd.
6th St. Enclave Avenue, California.
Dear [Recipients Name],
Hope you are good. I am writing to have a little favor. I need a day off tomorrow as I must take my grandfather to the hospital. I was informed about it very shortly as my father has committed for this appointment. But he had a sudden emergency in his factory, so he left last night on immediate notice. Hospitals need a lot of time waiting for the number. As my grandfather is a heart patient and too old to stand in a queue to manage all by him. Moreover, I have completed tomorrow's presentation and handed over to my colleague.
I am looking eagerly for a kind response.
Sincerely,
Elsa David
Innovators Tech Ltd.
Download Details: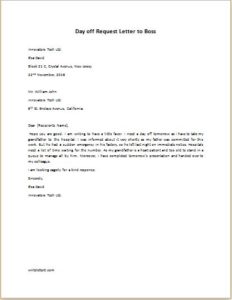 Day off Request Letter to Boss

Size: 33 KB Word .doc File 2003 & later
Download
Size: 312 KB PDF File
Download
[personal use only: Not for Resale & Distribution]