Disagreement Letter about the Extension of a School Day
This letter is written in order to show your disagreement for the extension of school days due to some reason. Firstly, it tells about the reason of extension and then the reason for your disagreement with the decision. It must not lose the soft and formal tone of the sender and should also be kept straightforward. The letter must also provide necessary proof to support your point of view. Given here a letter that can be used in this respect.
Disagreement Letter about the Extension of a School Day
[Your Name]
[Address]
[Letter's Date]
[Recipient's Name]
[Address]
[Subject: Subject of Letter] -optional


Dear [recipient's name],
I am writing this letter in reference to the circular sent to the parents by your administration regarding extending the school days till July to make up snow days. This is a very unusual event and it is a matter of inconvenience for us since my family and I have plans to attend my sister's wedding the weekend after school was originally scheduled to be out. We have already bought the plane tickets and booked a hotel of which there is no refund.
I have worked now and then together with the faculty for the betterment of your school. However, this is a very important family event and we cannot miss this. So, if you cannot deal with this issue to resolve the matter then I want complete assurity with written proof that my children will not be penalized for their absence.
Thank you very much.
Sincerely,
[Your Name]
Download Details: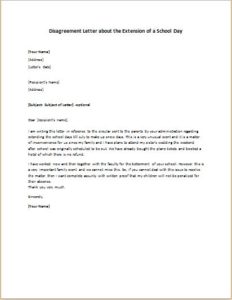 Disagreement Letter about the Extension of a School Day
Size: 26 KB Word .doc File 2003 & later
Download
Size: 116 KB PDF File
Download
[personal use only: Not for Resale & Distribution]