Disagreement Letter Concerning an Account
The main purpose of writing the disagreement concerning an account is that you want to tell the higher authorities of the bank that whatever information it has provided to you about the account is inaccurate or have some error. The documents supporting your opinion should also be attached with the letter. The copy of credit reports is the most important document to be attached to the letter of disagreement. Mention the issue and the expected resolutions in the letter. The letter should be written in a positive tone and do not blame or misbehave with the reader if you are writing the letter for the first time. If you have written multiple letters and your issue is still not resolved then you can explain your course of action which you have already planned. When you are trying to prove that you are right then there is a need of proper pieces of evidence. The letter should be ended on a positive note and your tone should be polite. Express in the letter that you are confident enough that your problem will be solved.
Disagreement Letter Concerning an Account
[Your Name]
[Address]
[Letter Date]
[Recipients Name]
[Address]
[Subject: Subject of Letter] -Optional-
Dear [Recipient's Name],
Yesterday I received a letter telling my account statement. To my wonder, it has a big spelling mistake in my name. It has been written [EXAMPLE] instead of [EXAMPLE]. I thought that you might have sent this account statement by mistake. This is a big matter of concern for me and I want this matter to be solved as soon as possible. I hope that you will try to solve this issue at your earliest convenience. A good relationship is very important for us and I was thinking to refer my friends and family members to your bank. Kindly make corrections in the statement of my account and send me the correct one.
[Your Name]
[Senders Title] -Optional-
Download Details: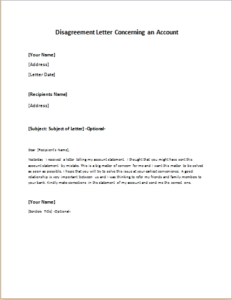 Disagreement Letter Concerning an Account

Size: 25 KB Word .doc File 2003 & later
Download
Size: 193 KB PDF File
Download
[personal use only: Not for Resale & Distribution]