Disagreement Letter for Double Billing
You can be billed double, even triple or more. This is what we call mistakes or errors. While today most calculations and billings are made using computerized systems, people still face issues like double billing, wrong billing etc. It is, therefore, recommended to keep the billing receipts with full care once the bill is paid since they are a proof document. If someone is billed double or twice the receipts are what can be shown as a proof to correct the billing errors.
Disagreement Letter for Double Billing
[Your Name]
[Address]
[Letter Date]
[Recipient's Name]
[Address]
[Subject: Subject of Letter] -Optional-
Dear [Recipient's name]
I'm writing to you regarding the issue with my telephone bill. Since I am in a habit of paying my bills in time, I had paid my bill last month well before the due date. This time, I should've been billed only for this month; however, the amount of the bill is double. It includes the last month's bill as well this month's bill which means I did not pay my bill last month while I did. The total amount is [enter amount] which is far more than what I usually pay.  I'm sure I am not supposed to pay this double bill since this is only a mistake.  As a proof, I am enclosing the receipt of the last month's bill. Kindly resolve this issue so that I may be able to pay my bill before the last date. I shall be looking forward to your prompt response. Thank you!
Sincerely,
[Your Name]
[Your Title] -Optional-
Download Details: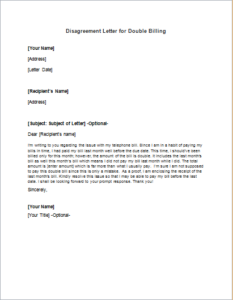 Disagreement Letter for Double Billing
Size: 30 KB Word .doc File 2003 & later
Download
Size: 246 KB PDF File
Download
[personal use only: Not for Resale & Distribution]