Employee Training Session Announcement Letter
It is the desire of every company and a business to train its existing employees. Many companies make the hiring of the employees based on their training, however, if the employees are passionate but not trained well, the company can itself start the training program to train them for the future so that they can develop in their professional and personal life as well. When a company has decided to start the employee training session, there is a need to announce it. The employee training session announcement letter is written in such situation.
Usually, the announcement letters are small and to the point. The unnecessary details are omitted from the letter and the catchy subject is also added in it. The purpose of adding the subject is to make the reader attentive towards the letter. If you want to make the reader realize the importance of the training, you can add some benefits which an employee will get after getting trained. Also, include in the letter that it is compulsory for each employee to attend the session. The letter can be ended with the positive message. The tone of the letter should be formal and polite.
The date, purpose, time and the location where a meeting will be held should also be explained in detail. The training details are also very important to be included in the letter. it should also be told in the letter that what is the purpose of the training.
LETTER
Dear [Recipient's Name],
I am very happy to announce that our company has decided to start training session for the employees. The main purpose of the training is to bring improvement in [professional skills] in our employees. The training session will be starting from 10th Sep to 20th Sep. The timings of the training will be 2 p.m. to 4 p.m. If for any reason you will not be available for training, do let us know.
[Your Name]
[Senders Title] -Optional-
Download Details: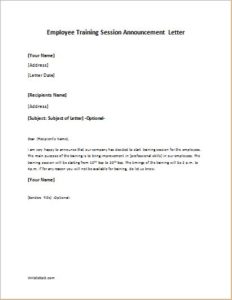 Employee Training Session Announcement Letter
Size: 38 KB Word .doc File 2003 & later
Download
Size: 122 KB PDF File
Download
[personal use only: Not for Resale & Distribution]