Endorsement Letter
Endorsements are highly appreciated and considered. In this growing advanced world, it has become a norm, especially among marketing firms. A variety of decisions in all fields is relying on endorsements. Letter of endorsements is made on the nomination of a candidate for an award. Proposals are endorsed as well as political candidates are also endorsed. Famous celebrities are requested by different brands and fashion magazines for their endorsements. It should be done from some reliable and worth mentioning source otherwise it will be of no value. For awarding employees with awards a lot of endorsements are given by seniors and colleagues on their behalf, who really deserve. When some organizations need reports for their department amendments to increase any sales or procedures, the report highly accepted is being endorsed. Requesting celebrities for brand endorsements enhances its sales, growth, and marketplace. But one needs to select the right person at right time and way. Award winning employees are being certified mainly by their friendly behavior and motivational skills.
Endorsement Letter
Mitchell Raymond
Block 22C, Pearl Avenue, New Jersey.
November 17th, 2017
Mr. John Zuckerberg
Department Administrator
Ace Electronics Ltd.
Block 22C, Pearl Avenue, New Jersey.
Dear [Recipients Name],
I hope you are in good health and contented. I have been privileged to endorse the best sales manager from sales and marketing department. I would like to nominate Mr. Richard. He is a man of character. His skills and abilities are always regarded by his colleagues. In the last few months, he has done remarkable sales and promotions. He is very devoted and diligent. Among all difficult situations, he had outstanding patience. He always meets and exceeds our expectations. He is always found very compatible in all kind of situations. As being a junior employee in our company, his progress is outstanding. He had won hearts of the bosses, colleagues, and customers in this short time. Keeping in view his dedication, I feel he is the most deserving candidate among all.
Please feel free to inquire any further information. Have a very good day and stay blessed.
Sincerely,
Mitchell Raymond.
HOD, Ace Electronics Ltd.
Download Details: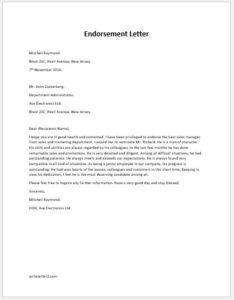 Endorsement Letter

Size: 44 KB Word .doc File 2003 & later
Download
Mobile Version: Polaris Office & Google Docs
Size: 17 KB File
Download
[personal use only: Not for Resale & Distribution]