Follow up Letter after Meeting in Review Actions
A follow-up letter is written to those people whom you want to remind the tasks which were assigned to them in the previous meeting. This letter is useful since it keeps the work of the company progressing. The letter should be started with a very positive statement. In order to make the letter more useful for the reader, give a short review of all the assignments and others tasks which were discussed in the meeting. It is also good to tell the reader not to forget the deadline of the task which has been assigned to him and he should be ready for the next meeting.
Adding the subject in the letter makes it easier for the reader to read the letter and to understand what the letter is all about. The agenda of the previous meeting also makes several things understandable and the reader can apprehend what might be the agenda of the next meeting or how he will be treated at the next meeting.
The reader can also know the importance of the assignment which has been given to him since the letter has the main focus on all those tasks and assignments which were assigned to the people who attended the previous meeting. You can clearly mention the date on which you want to get the report from all those people who attended the last meeting. You can end the letter with the positive note that you appreciate the willingness and passion which you have seen in all the people.
Follow-up Letter after Meeting in Review Actions
[Your Name]
[Address]
[Letter Date]
[Recipients Name]
[Address]
[Subject: Subject of Letter] -Optional-
Dear [Recipient's Name],
A few days back, there was a meeting of all the residents of metro who decided to change the route for the main road. We did not find this change to be beneficial for us. Such useless and a unanimous decision should not be implemented. We are very thankful to Mr [NAME HERE] for the initiative which he has taken to file a petition regarding our concerns. We are sure that all of you will sign that petition so that our names can also be presented in council. I will be grateful if you attend the meeting and contribute in saving our community.
[Your Name]
[Senders Title] -Optional-
Download Details: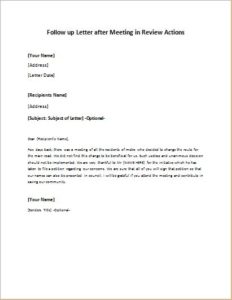 Follow-up Letter after Meeting in Review Actions
Size: 38 KB Word .doc File 2003 & later
Download
Size: 125 KB PDF File
Download
[personal use only: Not for Resale & Distribution]