Follow up Reminder Letter on Report Submission and Meeting
The follow-up reminder letter on report submission and meeting is written when one meeting has already been attended by the staff of the company and they have been asked to submit the initial report to the authorities of the company. The letter is written to remind them about the task of report submission which was assigned to them. You can start the letter by adding the subject in the letter. The subject will clear everything to the reader and it will be easy for him to read what has been written in the letter.
The tone of the letter is usually formal and the letter is written very briefly. All the unnecessary details should be omitted from the letter since the letter is a formal document. The details of the next meeting which you want to remind the reader should also be mentioned in the letter. These details include the time, date, day and the location of the meeting. Although the meeting was already scheduled and the reader knows that he has to submit the report in the meeting, it is very convenient and useful for the reader that you add the agenda of the upcoming meeting in the letter. This will also be beneficial for those people who could not attend the last meeting due to any reason. End the letter with the positive tone and tell the reader what you expect from them after reading this reminder letter.
Follow up Remainder Letter on Report Submission and Meeting
[Your Name]
[Address]
[Letter Date]
[Recipients Name]
[Address]
[Subject: Subject of Letter] -Optional-
Dear [Recipient's Name],
It is to remind every employee to update their benefit files and make a report on it. You should confirm the updated status of the files including free transport, health care and some other benefits options in the file which you want to be practised by the end of this month. If you will not update your status on time, the standard benefits will be applied on your files which you may not like. The report should be completed by the end of this week as a meeting is going to be conducted next week in which you will be required to submit that report. If you have any question related to this, you can call us. We will be pleased to assist you.
[Your Name]
[Senders Title] -Optional-
Download Details: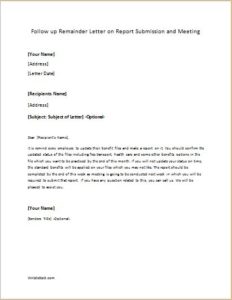 Follow up Reminder Letter on Report Submission and Meeting
Size: 23 KB Word .doc File 2003 & later
Download
Size: 123 KB PDF File
Download
[personal use only: Not for Resale & Distribution]