Get Well Soon Letter about a Broken Leg
Incidents and accidents are the part of life that can happen to anyone, anywhere, and anytime. Therefore, it is our moral and social duty to help those who are in trouble. If we help someone today, definitely he will do so in return or at least he will have regard of this throughout his life. In today's life, when everybody is busy in his life, social circle on social media has been enlarged but social values are almost forgotten. Our busy schedule has changed the definition of our moral responsibilities and resultantly taken out our proud. It is need of the hour; if we see somebody in problem then we need to troubleshoot his problem practically. If practical help is not possible then we need to have sympathy with him and express our feelings for him to reduce his grieve. Sending a get well soon card or writing a sympathy letter wishing to get well soon is a marvelous effort in this regard.
Get Well Soon Letter about a Broken Leg
Arcade Industries
Scott Hill
34 St, Hill View Avenue, San Francisco.
12th January 2017
Mr. Carter Nelson.
34 St. Diamond Avenue, San Francisco.
Dear [Recipients Name],
I heard the sad news about your accident on the bike and I hope you are fine now. I know you ride the bike very carefully but the journey on a bike is always dangerous. You should not lose your hope at least your life is safe and fractured leg is considered nowadays in a minor injury. I hope you will not take much time to recover your injury. Have proper rest and do not put weight on the leg until the time you are fully recovered. It will take four to six months to improve. Always take your medicine on time and never overlook them. Moreover, this is also my suggestion to replace your bike with the car as this is happening the second time in a year. You should not worry about office because the boss has accorded the approval of your leaves after watching your medical reports in which doctor also recommend the bed rest of four months at least.
Hope you will get well soon.
Sincerely,
Scott Hill
Marketing Manager, Arcade Industries.
Download Details: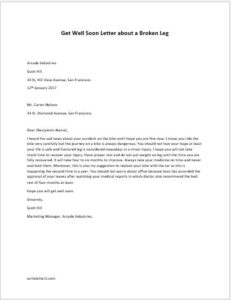 Get Well Soon Letter about a Broken Leg
Size: 31 KB Word .doc File 2003 & later
Download
Mobile Version: Polaris Office & Google Docs
Size: 23 KB File
Download
[personal use only: Not for Resale & Distribution]