Get Well Soon Letter to a Family Member
Condolence with family members or friends is a good gesture. It is expected and admired by all the people. Especially, if some family member gets ill, they expect a lot from their beloved ones. Expectations, if hurt gives a long lasting discomfort, especially from beloved ones. Our family members, who are living in far off places, keep high concern with all the situations going behind in the family. We always hope for good for our family. But sometimes, some situations like severe illness or any serious accident etc. Illness or disease is natural and, it can come on anyone at any time. In such condition, people living in far off try to reach to their family. If not, they can write a letter also. This is the time when our family needs us. Get well wishes should be expressive. A little dose of humor can work a lot. Our context should be concerning and appealing. It should be full of encouragement and hope.
Get Well Soon Letter to a Family Member
Morgan Coleman
7th October 2017
Mr. Bennet Coleman.
Block 12D, Blue Whale Avenue, San Francisco.
Dear [Recipients Name],
I heard from the mother about your foot operation. My dear brother, you mean a lot to me. I tried my best to take leaves but bank audit is going on nowadays, unfortunately, did not get them. But next month I will surely come. I cannot wait to see you smiling again. It was a major operation but it will heal soon. Mom told me that it will be recovered in 2 months. Doctors are fully satisfied with full recovery. Your will power will be your best medicine. Keep on taking your medicine properly. Stay motivated as it will help you a lot. I hope you remember those days when we used to do morning walk together and then we used to take breakfast from our favorite restaurant with our friends. And on way back to home we used to do little pranks. That was the very lovely time we had together. May Almighty bless you always.
Sincerely,
Morgan Coleman.
Operations Manager, Chase Bank.
Download Details: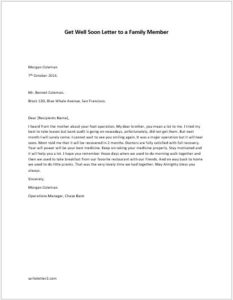 Get Well Soon Letter to a Family Member

Size: 72 KB Word .doc File 2003 & later
Download
Size: 312 KB PDF File
Download
[personal use only: Not for Resale & Distribution]