Gym Cancellation Letter
While some people have gym workout as a must in their lives, others join the gym either as a fashion trend or to reduce some belly fat that makes their tummy look like a giant football. Mostly, when people join a gym for weight issues, they continue the routine only until the goal is achieved. To cope with all such clients, gym administration's offer different memberships. The benefit of memberships is that one is not required to pay gym bills on daily basis. In other words, things become simple.
The second type of dudes who are supposed to appear in the gyms for a few months or weeks, there is an option of canceling the membership or registration with the gym. Although the permanent member may also want to leave the gym for one reason or the other, membership cancellation is particularly useful for temporary members.
If the cancellation is made merely due to the personal reasons of a member, he should, in the letter appreciate the gym services, thank the staff and encourage them to keep up the good work. In case the cancellation is made due to poor services, a member may write his concerns in the letter to help the authorities in fixing their shortcomings.
Gym Cancellation Letter
[Your Name]
[Address]
[Letter Date]
[Recipients Name]
[Address]
[Subject: Subject of Letter] -Optional-
Dear [Recipient's Name],
This letter is to request the cancellation of my membership/registration at your gym. I have been coming to your gym since the past [enter duration]. Although it was quite far from my house, I still chose it for the gym workout to reduce my excessively increasing weight. I was not sure this would work or not but after reducing my weight dramatically in just [enter duration] I am here writing to you this letter to utter my deepest gratitude. Your staff has been immense friendly and supportive. I loved the time I spent at your gym however, I am saddened to inform you that due to some personal reasons I shall not be able to continue the gym workout at [enter gym name]. Kindly cancel my membership and once again thank you very much for the wonderful services that you provided.
[Your Name]
[Senders Title] -Optional-
Download Details: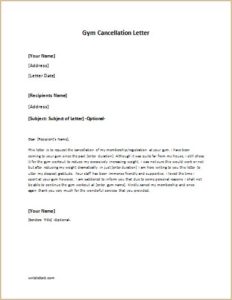 Gym Cancellation Letter

Size: 33 KB Word .doc File 2003 & later
Download
Size: 313 KB PDF File
Download
[personal use only: Not for Resale & Distribution]