Invitation Letter for Speech to Someone
This kind of letter contains all the details of the conference or the event for which you are inviting a speaker. It is put forward in a way to make it interesting for the speaker so that he may appreciate and acknowledge your invitation right away. A detailed event plan and the key partners for the conference or a convention are mentioned. This way the speaker would have an idea of what the whole thing is about and he will come prepared on the event day. The letter body is mentioned below.
Invitation Letter for Speech to Someone
[Your Name]
[Address]
[Letter's Date]
[Recipient's Name]
[Address]
[Subject: Subject of Letter] -optional
Dear [recipient's name],
It is my pleasure to invite you as a guest speaker on the [International Conference on Business Management 2016] which is subjected to be held off [27th and 28th of the present month]. This is a very big event as many of the people from all around the world are coming to attend this conference and also the directors of different companies local and international will be a part of this event. It is being held in collaboration with different universities [mention the name of universities and other key partners].
There will be national and international media coverage and an audience of around 2000 is expected to attend the event. We would like your name to be in the list of our keynote speakers. It will be a pleasure for us if you make some time out of your busy schedule and be a part of this conference. We will be looking forward to seeing you at the event.
Thank you very much.
Yours Sincerely,
[Your Name]
Download Details: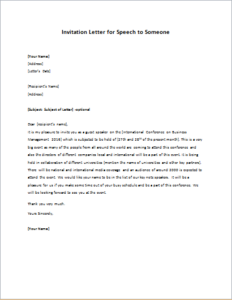 Invitation Letter for Speech to Someone
Size: 30 KB Word .doc File 2003 & later
Download
Size: 201 KB PDF File
Download
[personal use only: Not for Resale & Distribution]