Invitation Letter to Speak at Some Employee's Workshop
A letter containing all the details of the workshop and its purpose for which you are inviting a speaker to attend is used as an invitation letter. It is put forward in a way to make it interesting for the speaker as well so that he may appreciate and acknowledge your invitation right away. A detailed plan of the workshop, the decided time and date must be mentioned. It will contain the perks that you will be proposing to the speaker for speaking at your workshop. Following is a letter written in this regard.
Invitation Letter to Speak at Some Employee's Workshop
[Your Name]
[Address]
[Letter Date]
[Recipient's Name]
[Address]
[Subject: Subject of Letter] -Optional-
Dear [Recipient's name],
Every year the capital authority hold an educational workshop for its employ association to enable them to prepare in a better way for the products of the next season. Since you are a renowned personality with an immense knowledge on the topic (mention topic's name) so, we request your presence at this event as the sole key speaker. The workshop has been decided to be held on 20 of this month at 5 o'clock in the evening.
We are quite aware of your busy schedule but we request you to take some time out for this workshop. This will benefit our employees' association a lot and we have decided to give you $3000 as an honorarium. We hope to receive a positive response from you soon.
Thank you very much.
Yours Sincerely,
[Your Name]
Download Details: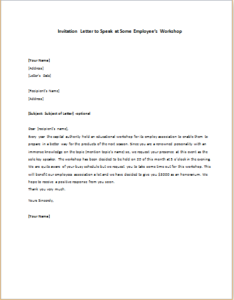 Invitation Letter to Speak at Some Employee's Workshop
Size: 30 KB Word .doc File 2003 & later
Download
Size: 204 KB PDF File
Download
[personal use only: Not for Resale & Distribution]